Timothy Keating
CEO - Senior Guide
Founder of SWS –
43 Years Professional Guiding Experience
Tim's Bio
Tim, one of the founders, has been guiding and operating SWS Mountain Guides for over 40 years. He has over 100+ summits on Mt. Shasta and over 100+ on Mt. Whitney. As an avid backcountry skier, he has logged countless ski ascents on Mt. Shasta, Mt Lassen, and several Trans Sierra Ski crossings and various climbing and skiing routes in the High Sierras. Tim's high altitude experience includes ascents and 40 plus international expeditions in Mexico, Ecuador, Peru, Bolivia, Argentina, Tanzania, Nepal, and Russia.
AMGA Alpine Guides Course
AMGA Certified Single Pitch
Professional Climbing Instructor Guides Institute Certified Top Rope Guide
Wilderness First Responder
Certified American Avalanche
Association Avalanche Instructor
Pro 2 Avalanche Training
Certification, Graduate from the
National Avalanche School
Leave Not Trace Certified Trainer
Membership in the American Alpine Club since 1997.
BA in Geography from Humboldt State University
Tim speaks Spanish, is married to Emily White-Keating, and has a 22-year-old son; Joshua plays college baseball.
David Cressman
COO - Senior Guide
Mt Shasta Operations –
28 Years Professional Guiding Experience
David's Bio
David is one of the principal owners of SWS Mountain Guides and has over 25 years of managing & guiding experience for SWS Mountain Guides. Dave is a veteran SWS guide, having over 100 summits on Mt. Shasta to his name. In addition, Dave has high altitude experience and International expeditions in Ecuador, Bolivia, Russia, and Argentina. Dave's true passion, however, is climbing in the Palisades on mixed routes. A little-known fact about Dave is that he is a fantastic backcountry chef and can cook a mean couscous burrito. Dave is a graduate of the 10-day AMGA Alpine Guide Course, AMGA Single Pitch Instructor, holds a Wilderness First Responder (WFR), and is a graduate of the National Avalanche School and Avalanche Level I & Level II. In addition, he graduated from Humboldt University with B.S. Degrees in Biology, Zoology, and Oceanography. Dave lives in Mt. Shasta with his wife, Alana. They have three children Jarrod, Mariah, and Jesse.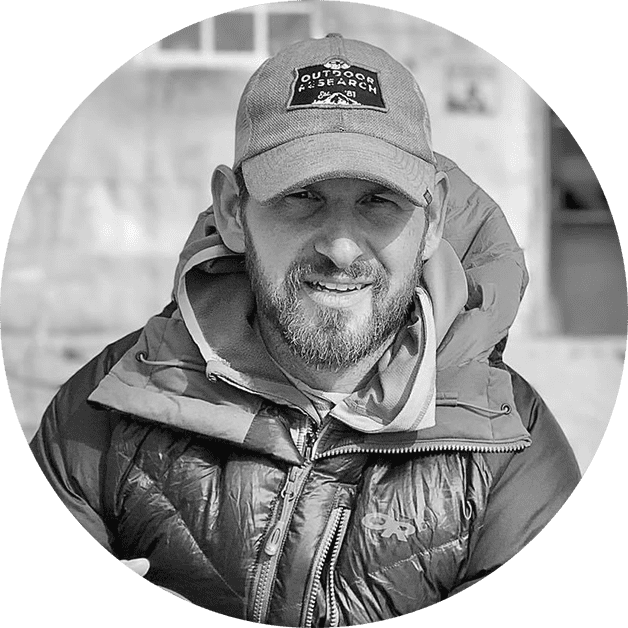 Caleb Burns
CMO - Senior Guide
Avalanche Pro 2
GORP Guide
OSSA Certification
Rope Rescue Technician
Caleb's Bio
A dedicated guide and Search and Rescue volunteer, he's a dynamic force within our team. Growing up surrounded by nature in Southern Oregon, his love for the outdoors and adventure began early on. Childhood explorations with his father across the West Coast played a pivotal role in shaping his fondness for mountains and wild places. These early travels instilled in him a deep connection to the outdoors.
His passion for exploration only grew as he traveled extensively throughout the country, visiting nearly every state West of the Mississippi River. These experiences solidified his appreciation for diverse landscapes, influencing his work today as one of our lead avalanche educators. Holding the highest level of avalanche education currently available in the United States, he shares his expertise not only in guiding but also in collaborative efforts with other operations, contributing to their better understanding of terrain and mitigation practices.
Beyond Mt. Shasta, you'll find him in the Sierras, North Cascades, or on international expeditions. When not guiding or educating, he enjoys mountain biking, running, and various physical challenges. His commitment to continuous improvement, both in and out of the mountains, reflects his unwavering passion for adventure.
Studying physiology and psychology, he seeks new ways to test himself and understand human reactions in different situations. Whether navigating challenging terrains or guiding others, he applies his knowledge to enhance personal growth and the experiences of those he guides or helps rescue.
His contributions extend beyond the mountains, working diligently behind the scenes to expand our offerings and improve the quality of climbs and courses. Currently based in Southern Oregon with his wife, daughter, two cats, and two dogs, his commitment to the outdoors is not just a profession but a way of life. Rooted in early adventures and enriched by extensive travel, his journey has shaped him into the seasoned guide, educator, and family man he is today.
Kique Romero
Technical Director
IFMGA Guide
AMGA Alpine Guide
AMGA  Rock Guide
AMGA Ski Guide
Kique's Bio
Born and raised in Mérida, Venezuela, Kique grew up scrambling up 4,000mts peaks. Summers saw him taking 72hr bus trips to explore the Andes in Colombia, Ecuador, Peru, Bolivia, and Argentina. After graduate studies in Switzerland at the ETH and in California at UC Berkeley, Kique completed a 15 yr career as a Program Manager at Lawrence Livermore National Laboratory while leading 15 expeditions to South America. Since then he has joined SWS and his organizational skills, attention to detail, AMGA training, and in depth knowledge of the Andes have allowed him to tailor highly successful expeditions at all experience levels. Kique is fluent in English, Spanish, German, and Japanese. He is a certified IFMGA guide having accreditation with the AMGA as a Rock Guide, Alpine Guide, and Ski Guide.
Dr. Emily Sagalyn MD MPH FAWM
Consulting Physician
Diploma in Mountain Medicine (DiMM)
Emily's Bio
Dr. Emily Sagalyn-Brown is Board Certified in Emergency Medicine and holds the internationally recognized Diploma in Mountain Medicine (DiMM)
Dr. Emily Sagalyn-Brown is Board Certified in Emergency Medicine and holds the internationally recognized Diploma in Mountain Medicine (DiMM) training in glacier, high altitude, avalanche, and helicopter rescue. She is also the faculty of the DiMM program through the Wilderness Medical Society (WMS). Emily received her B.A. from Columbia University in New York, NY. She received her medical degree from the University of Massachusetts in Worcester, MA. She completed her Emergency Medicine residency at the University of Pennsylvania in Philadelphia, PA, and a fellowship in Wilderness Medicine and EMS at the University of Utah. While in Utah, she also completed her MPH. She serves on the board of the Wilderness Medical Society and earned their Fellowship of the Academy of Wilderness Medicine (FAWM). Emily has been the consulting physician for SWS Mountain Guides since 2010. She has provided wilderness medical care at the Kunde Hospital in Nepal, the medical clinics in Big Sky, Montana and Jackson Hole, Wyoming, and various locations throughout Utah.
Neil Woodruff
Senior Guide
Lone Pine Manager
ADA Ski & Mountain Specialist
Neil's Bio
Neil has over 20 years of experience guiding SWS; he oversees & manages our Lone Pine operations.
Neil Woodruff began his outdoor career as a child learning North American plants and animals from his family members, including biology, botany, farmers, hunters, and gun makers. Since then, he has expanded his North American knowledge and studied African and South American ecosystems. Neil currently divides his year between California and Wyoming. In California, Neil primarily works for SWS Mountain Guides, where he guides: mountaineering, alpine rock climbs, rock climbing courses, survival courses, spring ski/snowboard mountaineering, and the occasional winter ascent in the Sierra Nevada. He winters in Jackson, WY, where he teaches snowboarding and skiing for Jackson Hole Ski Area, also serving as a staff trainer. Neil has also worked for various California and East Coast Ski Resorts and internationally in Portillo, Chile. Since 2007 he has served as a clinician for PSIA-w specializing in adaptive sports. Most recently, Neil moonlighted as a consultant and instructor with the Foundation Deporte y Desafio in the first Spanish accreditation of Adaptive Snowboard Instructors, an event held in preparation for the 2015 Universiada de Invierno (Winter World Student Games) in Granada. In his spare time, Neil has developed sport, aid, and traditional climbing routes in California from Mt. Shasta to Lone Pine and trekking routes in Kenya. Neil's certifications include AASI Level III Snowboard instructor, PSIA Level III Adaptive Instructor (one of four persons to receive this certification on a snowboard), PSIA Level I Alpine Ski Instructor, and Children's Specialist Level II. Neil also possesses Wilderness First Responder (WFR), Leave No Trace, AAA Avalanche II certifications, and the AMGA Ski Guides Course and AMGA Rock Guides Course. ADA Specialist.
Tony's Bio
Tony started climbing in MT in 1997 after moving there for college. From then on, all he wanted to be was a climber. Tony started guiding in 2004 and became an AMGA certified rock guide in 2007. He has climbed fairly extensively in the American west and has found success on a few trips to Europe. Tony is a full time science teacher and is raising two children that will be better rock climbers than he is in short order. 
.
Brad Thomas
Lead Guide
PCGI Rock Guide
Avalanche Level 2
Physical Therapist
Brad's Bio
Brad discovered rock climbing while attending graduate school in the great hills of eastern Pennsylvania. Since, he has been relentlessly pursuing his climbing passion. From the sandstone cliffs of Kentucky, granite spires of the Sierra and the Tibetan foothills of western China, Brad has been seeking adventure and improving his alpine skills and knowledge for the last 10 years. He is excited to have finally turned this passion into his profession as a guide with SWS. When he's not guiding or climbing, Brad spends his time crafting human powered adventures, on his bike or split-board, alongside his practice as a Doctor of Physical Therapy.
Matt Mahaney
Lead Guide
AMGA Apprentice Alpine Guide
Avalanche Level 2
Matt's Bio
Resident hillbilly, Matt Mahaney was born and raised in West Virginia.  Matt was adopted into the SWS family in 2017.  As a Lead guide for SWS and an AMGA Apprentice Alpine Guide, Matt enjoys adventuring in beautiful places with rad people.  When not in the mountains, Matt produces the California Backcountry Report for Mountain Guide Media LLC.
Stephen Larson
Lead Guide
AMGA Apprentice Rock Guide
AMGA SPI
Avalanche Pro 1
Stephen's Bio
Hailing from the pastel colored plains of Central Kansas, Stephen Larson grew up driving tractors and chasing cattle. When his job title transitioned to "professional mountain biker" a new love was found; the endless call for adventure. Stephen now spends his time as an avid outdoor athlete, guide, and ski patroller, pursuing a career as an IFMGA Mountain Guide. Fortunate enough to split time between the Range of Light, the Adirondacks, and the Volcanoes of the Pacific Northwest, Stephen has developed the ability to morph between climates, cultures, and cooking styles. As a storyteller, he strives to inspire through words and pictures that derive from his love for sharing the warmth of the first rays of sun high on a mountain, hours after waking up and thinking "is this really worth a 12am start."
AMGA Apprentice Rock Guide

AMGA Single Pitch Instructor
Pro 1 Avalanche Course
NREMT/WEMT
Winston Mueller
Lead Guide
PCGI Rock Guide
Avalanche Level 2
Wilderness First Responder (WMTC)
Winston's Bio
Winston Mueller – As a southern Oregon native, Winston has built his experience climbing rock and mountaineering in Oregon's Cascade range and high desert crags.  Winston has been guiding with SWS since the 2021 season and plans to continue developing his skills and education through the PCGI all while guiding Mt. Shasta and rock climbing around the west.
PCGI Single Pitch Rock Guide / Rock Apprentice
A3 Avalanche Level 1 & 2
A3 Avalanche Rescue
 Wilderness First Responder (WMTC)
Zack's Bio
A guide with a calming presence and a passion for all things outdoors. Hailing from Ashland, Oregon, Zack has deep roots in the region and is thrilled to start his own family in the place he calls home.
His love for nature extends across various activities, from the exhilaration of snowboarding to rock climbing, backpacking, or the grandeur of mountaineering. A member of the Southern Oregon Climbers Coalition, he actively contributes to the climbing community, ensuring that the outdoor spaces he loves remain vibrant and accessible.
Beyond the peaks and crags, Zack finds solace in playing his guitar. However, his favorite pastime is mastering the art of Kendama. When not guiding, Zack can be found at a local ski area near Ashland, playing and working in the snow.
With Zack as your guide, you're not just embarking on an adventure; you're joining a journey led by someone who not only knows the terrain but has a deep connection to the community and a genuine love for the wild.
Matthew Morse
Lead Guide
Avalanche Level 1
AASI Level 2 Ski instructor
Matthew's Bio
South Lake Tahoe local, Matthew Morse, grew up surrounded by mountains where he spent every possible moment in the great outdoors looking for adventure. He learned how to rock climb after high school and ever since, Matthew has been passionate to teach others and share his love for the sport. He has climbed many of the classic routes throughout California and has summited routes in Yosemite and the High Sierras. In 2008, he started working as a ski instructor and now supervisor for the Kids Ski and Ride School at Heavenly. In the last years, Matthew has built his home base in the beautiful Carson Valley where he spends his free time with his wife and son. Matthew has received the following certifications:
AIARE Avalanche Level 1
AASI Level 2 Ski instructor
Wilderness First Responder

Matthew joined the SWS team in 2013 and is always looking forward to sharing his joy of the great outdoors and help you create new and unforgettable memories of your own.
Jackson Kramer
Lead Guide
Jackson's Bio
The volcano enthusiast with a passion for snowboarding down peaks and catching waves. Jackson has made it his life's mission to climb volcanoes, prioritizing those with the added bonus of descending on his snowboard. When the snow melts, you'll find him chasing waves with the same enthusiasm that fuels his alpine adventures.
Beyond his alpine antics and coastal pursuits, Jackson is a trained photographer, capturing the breathtaking moments of his adventures. You can catch a glimpse of his escapades on his Instagram account.  He's not just about peaks, catching waves, or capturing the perfect shot. He's an incredible guide, and more importantly, an amazing person. His easygoing nature instantly puts others at ease, making every expedition not just an adventure but a shared experience with a friend.
Having explored outdoor spaces around the globe, Jackson finds his true home in the shadow of Mt. Shasta. It's not just about the landscape for him; it's about sharing the importance of these spaces with others. A talented guide, he encourages those he leads to not only appreciate the surroundings but to embark on their own explorations.
Jackson is more than just a nice guy with a passion for volcanoes and surfing; he's a beacon of enthusiasm, guiding you not only through the mountains but inspiring you to seek out the wonders of the outdoors.
Simran Chambers
Lead Guide
Simran's Bio
A fantastic guide with a passion for climbing and a heart as big as the mountains she works on. Originally hailing from the Windy City, she made the bold move westward to pursue her love for climbing.
With a demeanor that's as likable as her soft-spoken nature, Simran embodies the spirit of our guide team. Shasta's allure beckoned her, drawing her into a world where work and play converge. She's not just a guide; she's a seeker of heights, both in mountains and personal achievements.
When she's not guiding others, Simran can be found at Central Oregon Community College, diligently pursuing her academic goals. Her commitment extends beyond the cliffs as she contributes to one of the nation's largest ski resorts, bringing her love for the outdoors to a broader audience.
Simran thrives on sharing her expertise, helping individuals discover the thrill of climbing and achieve their goals. Her friendly and approachable nature makes every climb not just an adventure but a memorable experience.
Bec's Bio
Bec is a passionate and skilled educator and has taught at all ages in public and private sectors. She has completed the triple crown, traveled a 500 mile exploratory route through the desert of Nevada, California and Southern Oregon. She has completed alpine routes in Yosemite, the Wind River Range, Inyo Mountains, Elkhorns, Steen Mountains, the L2H Route, and several volcanic circumnavigations. She has hiked well over 10,000 miles and spent hundreds of nights in the backcountry. More recently her passion has transitioned into the winter high alpine. Bec has climbed and skied every volcano in the Cascade Arc, and many in the Chilean Ring of Fire. She guides because she is determined to pass on knowledge to people who love, or will grow to love, the outdoors as much as she does. 
Avalanche Level Pro 1
WFR (Wilderness First Responder)
Hannah Matranga
Lead Guide
Avalanche Level 2
WFR
OEC – Nat. Ski Patrol
AA in Outdoor Ed
Hannah's Bio
Hannah currently resides in Bend, Oregon where she constantly (maybe obsessively) pursues her passion for snowsports. An avid splitboarder, alpine climber, and competitive freeride snowboarder in the recreational realm as well as a snowboard patroller and snowboard instructor in the professional realm, she is always finding ways to be on snow (as of November 2023, she's at 25 consecutive months of snowboarding every month).
Her close secondary passion is teaching and sharing the things she loves with others, and working to eliminate the educational and financial barriers that keep people from experiencing the outdoors. She has worked in wilderness therapy, outdoor education, and guiding since joining SWS in early 2023. 
Nate's Bio
A true adventurer, Nate is based in Bear Valley, California. By summer, he transforms into a wildland firefighter, battling the elements to keep our landscapes safe. Originally hailing from Havre, Montana, Nate brings a rugged spirit to his mountain pursuits.
As the Host/Producer of The Not Snowboarding Podcast, Nate dives into the world of sharing stories that captivate and inspire. But that's not all—this multifaceted individual is also the Founder of Shred Soles, a company crafting insoles for both snowboarding and skateboarding since 2009.
In the winter, you'll find Nate in his element, carving through the snow on a snowboard or revving up a snowmobile. His passion for these activities goes beyond personal enjoyment—it's about sharing the thrill with others. As a guide in Bear Valley, Nate takes pride in unveiling the hidden gems of terrain, offering a unique experience away from the beaten path.
Of course, let's not forget his love for dogs. Nate's friendly demeanor and diverse skill set make him not only a fantastic guide but also someone you'd want to share a mountain adventure with. Join Nate in exploring the untouched beauty of Bear Valley.
Colin Wesolek
Guide
WFR
Ski Instructor
Colin's Bio
Meet Colin, our guide with a heart as vibrant as his canvas. A true happy soul, Colin finds joy not only in guiding but also in the world of art. When he's not leading adventures, Colin can be found wielding a paintbrush, adding color to the world as a dedicated painter. Additionally, he shares his passion for skiing as an instructor at Heavenly Mountain Resort in South Lake Tahoe, where he calls home year-round.
Originally hailing from Necedah, Wisconsin, Colin made the journey West in pursuit of the great outdoors. His goal is clear – to immerse himself in the beauty of nature as much as possible. Beyond the slopes, Colin has developed a profound love for rock climbing and slacklining.
What sets Colin apart is not just his expertise in guiding or his artistic talents, but his infectious attitude towards life. Always ready to infuse an element of fun, Colin is more than a guide; he's a companion who elevates the entire experience. It's this magnetic quality that draws people to him, making every adventure not just memorable but genuinely enjoyable.
Kory DiGrande
Guide
WEMT
Ski Patrol
Kory's Bio
Kory, a Tahoe native whose love affair with skiing started on the crystal-clear shores of South Lake Tahoe at the age of 3. While he initially carved his path as a ski racer, high school saw him trade the slopes for the basketball court in pursuit of a professional career. Fate, however, had different plans, and after earning a degree in Biochemistry from Southern California University, he found himself drawn back to the mountains.
For the past four years, Kory has been a member of the ski patrol at Heavenly. His passion for the mountains extends beyond ski descents or delving into the intricacies of snow science.
When he's not immersed in snowy environments, he spends his summers on the shores of Lake Tahoe as a water ski coach and boat captain between guiding. Always in search of those life-changing moments on skis, or rock.  Kory makes each moment you share an adventure and memory to cherish. 
Sean Willis
Guide
AMGA Rock Guide
AMGA SPI
WFR
Sean's Bio
A guide with a profound love for rock climbing. Currently residing in Tahoe, he finds great joy in assisting people in exploring the Sierra. While you may encounter him working on Mt. Shasta, his true passion lies in climbing granite. Sean is often regarded as an outstanding climbing guide dedicated to fostering a love for the sport. His mission is to help others appreciate and develop a fondness for rock climbing, mirroring his own.
In addition to his climbing pursuits, Sean has a deep love for snow. As an avid skier, he dedicates as much time as possible each year to indulge in the joy of sliding downhill on snowy slopes. A lesser-known fact is his notable sweet tooth. It's rumored that his geographical relocation from Atlanta to California was first driven by the allure of burritos rather than the mountains. Sean brings a wealth of experience to his role as a guide, having served at numerous gymnastic studios and climbing centers. This diverse background not only contributes to his remarkable climbing skills but also makes him an inspiring and versatile guide for those who embark on climbing journeys with him.
Jim Weeg
Nepal Trekking Guide
Wilderness First Reponder
Leave No Trace
Lhakpa Sherpa
Nepal Climbing Guide
JB Brown
Senior Guide
IFMGA Guide
Emeritus 1979-2022
JB's Bio

James Brown, aka "JB," was one of the principal owners of SWS Mountain Guides with over 20 yrs of guiding experience. After college, "JB" moved to the mountains of Wyoming and Utah to live his passion. JB has climbed or guided in almost every significant range in the US and four continents. He guided for SWS in the Cascades, Eastern Sierra, and Internationally. In addition to his guiding career, JB is also an avid backcountry skier and ski mountaineer. If you can't find him skiing big mountain lines in the winter, you can find him teaching, guiding, or mentoring in the western mountains' mountain ranges.
IFMGA Guide
AMGA Certified Ski Guide
AMGA Certified Alpine Guide
AMGA Assistant Rock Guide
PSIA Alpine Instructor level II
Certified Backcountry Instructor
Avalanche Level Pro 2
Board Member, Sierra Avalanche Center
Leave No Trace Certification
ADA Specialist


JBs favorite trip to guide is Island Peak, Nepal.